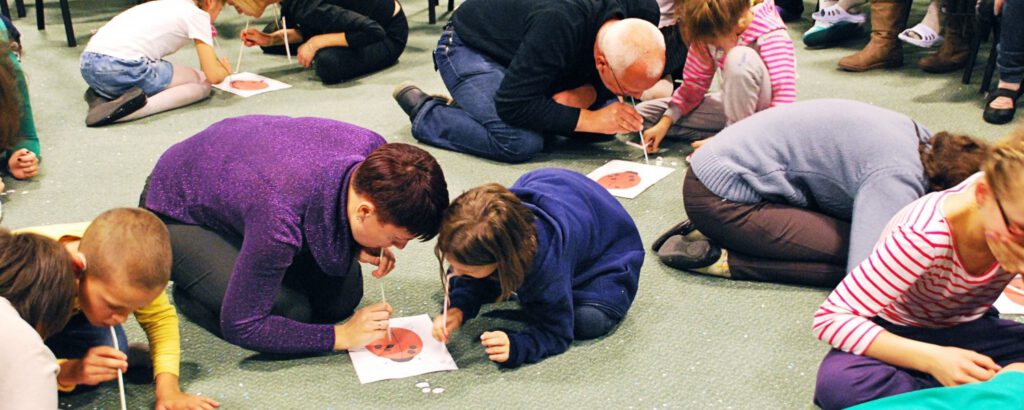 My child is deaf
Irina is deaf. When she picks up the phone, workshop participants observe with curiosity as she dials and hands the phone over to her interpreter, who temporarily becomes her voice. The hearing parents of deaf children, who are the target group of the "My Child Is Deaf" Project, look to her with hope. She has a good job and is in a happy relationship. In the post-workshop questionnaires, they will write: we looked into the future of our children and understood which path we need to take.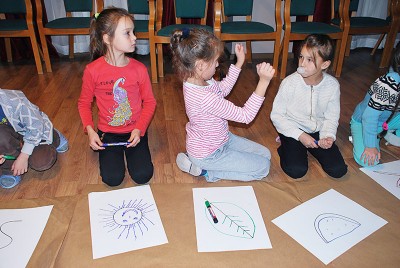 This project brought together the hearing parents of deaf children from Ukraine and non-hearing parents of deaf children from Poland. Participants had to be matched in this way, as non-deaf parents withdrew when they learned of other adult participants' hearing impairments. "Accepting 'the other' is not yet the norm in Poland. The parents of disabled children take all efforts to help their loved ones hear. They provide their children with hearing aids, have them undergo implant surgery and wait for a miracle that never comes. The longer it takes for a parent to start communicating with a deaf child, the bigger the delay in that child's development," explains dr Magdalena Dunaj, author of the adult course program, professional counsellor, partner of the Polish Association of the Deaf (PZG). "When it turns out medical interventions won't help, parents want their child to – at least – speak. Deaf children are taught to produce sounds, but this has nothing to do with communicating with the outer world, exchanging thoughts or emotions. They only move their lips as instructed by a speech therapist," adds Ewa Twardowska of the Polish Association of the Deaf, project coordinator.
Deaf parents who participated in the workshops used sign language to communicate with their children. Non-deaf parents could see for themselves that one does not have to speak to communicate perfectly. "I was surprised to find out that non-deaf parents don't want to learn sign language to bond with their children. The needs of these children are not limited to nourishment. They have an imagination of their own and they experience feelings, which they would somehow like to express," argues Edyta, a non-hearing mother of two deaf sons. They also showed non-deaf parents that having a deaf child is not the end of the world. It's simply a barrier anyone can get used to. Parents should adjust their expectations to their child's capabilities and refrain from helping them out in everything, otherwise they will lead to the formation of double disability.
"When I was observing how Irina Chepchina of the Ukrainian Society of the Deaf talked on the phone, I was surprised to realise that her interpreter is completely invisible to me. In Ukraine, the non-deaf only assist the deaf, whilst in Poland, even at the Polish Association of the Deaf, they often try to help out, and tend to take decisions on behalf of the disabled. For decades, we have grown used to a situation where the non-deaf assume the dominant role and overstep their competencies. That is why this scene acted out by the Ukrainian coordinator, where a deaf person exercised full autonomy to act, was so striking," explains Ewa Twardowska.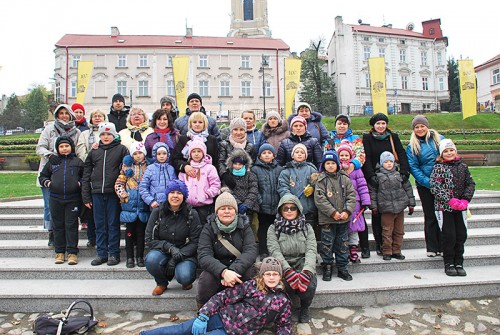 Ukrainian participants had their fair share of astonishing discoveries as well. What they found surprising was the democratic workshop method where everyone could share their insights, as well as the difficult emotions triggered by the difficult task of raising a deaf child. For the hearing parents of deaf children from Ukraine, it was of paramount importance that they had the opportunity to meet Polish parents and approach their problems from the perspective of a different nationality, exchange information about various methods of teaching children, attitudes towards implants, rehabilitation techniques and opportunities for professional development. The joint workshops allowed for the integration of not just the adult participants, but also of their deaf children. With no language barrier to overcome, they immediately ran off to play together. Ukrainian parents took home the contact details of other workshop participants and practical manuals which contained not just a list of support-providing institutions where one can learn sign language, but also explanations of how important it is for a deaf person to belong to a community of deaf people and communicate in sign language. The majority of deaf and hearing-impaired children is born to non-deaf parents. Hearing participants were given some food for thought about what is best for their child. After these workshops, they will no longer be asking themselves how to help their child hear, they will be asking themselves what is best for their deaf child.
Author: Agata Listoś-Kostrzewa
Photos: Edyta Tomasik
The ""I Have a Deaf Child"" Project was executed by the Polish Association of the Deaf, Łódź Branch in 2014 as part of the RITA – "Region in Transition" Program financed by the Polish-American Freedom Foundation.